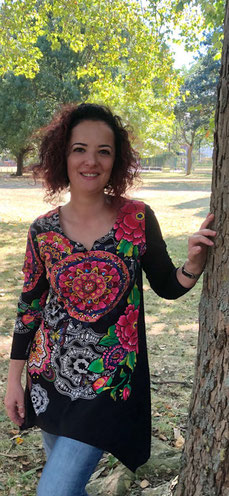 BACP Member - British Association for Counselling and Psychotherapy (n.374505)
AssoCounseling Member - Advanced Counselor level (Reg-A1611-2015)
Graduated and specialised in Core Energetics oriented Counselling (five-year training)
Graduated in BioGestalt 

oriented Counselling (three-year training)

Graduated Red Lodge DTMMS (

four

-year training)

Graduated IoSono - coaching model, Master Level

Online Certified Counsellor
My name is Velia, I am a native Italian speaker and I was born in Milan, where I lived until 2011, when choosing to radically change my life and move to the United Kingdom after a long career in the banking sector.
After having lived continuously in London for about ten years, I currently work in London and Milan as a professional counselor, offering individual sessions to adults, both in English and Italian and conducting workshops and group sessions.
I encountered Core Energetics in my personal journey of growth in 2006, and decided to take the related training course in 2009 at the Italian Institute of Core Energetics (personally founded in the 90s by John Pierrakos). I completed the fourth year of training, obtaining the relevant certificate, in 2013 and the fifth year of specialisation, obtaining the relevant diploma, in the following year.
I also completed the third and final year of training at SIBiG (Italian School of BioGestalt®) in 2014. This other BioGestalt counselling course primarily combines the Bioenergetics and Gestalt approaches.
From 2014 until 2016 I was an assistant at the Netherlands Institute of Core Energetics (NICE) on one of their four-year training courses for therapists and care professionals who wish to become Core Energetics practitioners.
From 2015 until 2019 I held a Director position in the Italian Core Energetics Alumni Association (AssoCore) which worked with the aim, among others, of spreading and promoting the principles, methods, studies and purposes of Core Energetics.
In 2020 I successfully completed a course specially designed in compliance with the guidelines of the British Association for Counseling and Psychotherapy, aimed at obtaining the necessary skills and knowledge to work online ethically and safely, consequently obtaining the title of Online Certified Counselor.
In 2021 I completed the training in the innovative coaching model IoSono™, Master level.
I regularly attend conferences, workshops and further training to keep current and deepen my professional knowledge, while I follow the shamanic Sweet Medicine SunDance Path (SMSD) for my personal and spiritual growth, currently at Bravo White Lodge level, after having completed the four-year Red Lodge Longhouse program in Italy and still being part of it as a translator.
Regarding my professional memberships, in 2015 I passed the examination of professional evaluation, obtaining the Certificate of Quality and Professional Qualification of Services by AssoCounseling, the largest professional body for counselling in Italy, of which I am a registered member (Advanced Counsellor level).

I also am a British Association for Counselling and Psychotherapy (BACP) Registered Member and listed in their Register for Counsellors and Psychotherapists, having passed their Certificate of Proficiency assessment in 2018.